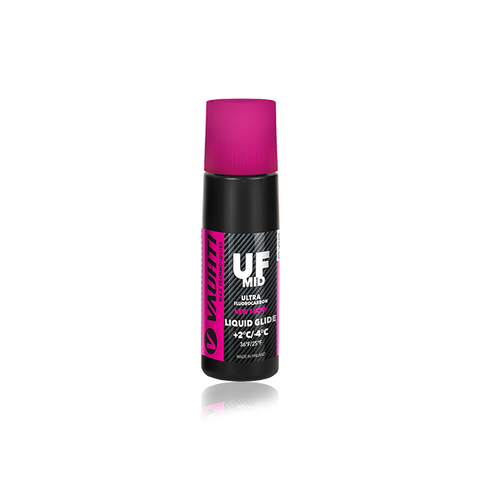 VAUHTI UF Mid Liquid Glide
Package size: 45g | 1.6oz
Operating range: +2/-4°C | 36/25°F
UF MID is a special product for new and damp snow. Ultra high fluorocarbon content and soft wax composition produce excellent gliding properties on challenging new snow conditions.
–
The composition and the content of fluorinated additives is optimized. The composition of wax raw materials have been selected by precise laboratory analysis and numerous field test. A special product for different snow types can be found from this series.
Instructions for liquid glides:
• Shake the bottle well.
• Press the sponge against the ski base and squeeze the bottle lightly, which makes the bottle valve open and the product can trickle onto the sponge.
• Apply a thick layer by rubbing it back and forth on the gliding surfaces.
• Allow to dry for approximately 10 min.
• Brush thoroughly, using a nylon brush.
Tip: Attach the dried product by rubbing with natural cork, you can also use a cork roller (= Roto cork). Using cork will significantly improve the product's durability. Brush the ski base thoroughly with a nylon brush; if necessary, use a fine-bristled metal brush first.
---
We Also Recommend
---