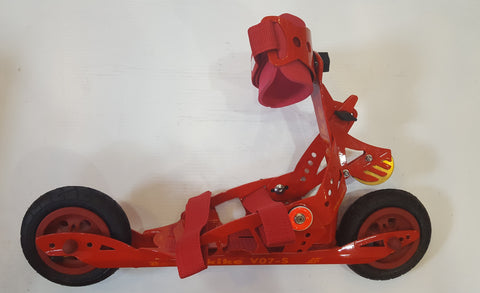 SKIKE VO7-S KIDS
Skiking – also known as Cross Skating is an endurance and health sports which exercises about 90% of the total muscle mass with gentle impact on joints and ankles. Skiking is a sport that almost every recreational person can perform. The movement is derived from the cross-country skiing skating step. Skiking can absolutely be considered as summer skiing and is a perfect alternative for the cross-country training during the snow-free period.
In general you can use any solid shoe for skiking. Regarding shoe sizes we focus on common shoes without special stylistic characteristics. Basically you should select your footwear in accordance to fit the footplate of the skike – look how much space is available for the shoe. Most sports shoes are suitable unless the sole at the heel and front is too wide like some modern running shoes. It just depends on the shape and style of your shoes. Recommended are shoes which cover the ankle and have a slim, sporty style and have a sole "not too soft" in order to get a real ski feeling as close as possible. The use of outdoor shoes is of course possible the foot needs a good hold inside the skike. "Cross-country skiing boots are not suitable."
In general it is advisable to always wear a helmet and gloves. Protectors with collision protection are also recommended for beginners and children. Skilful skikers and cross skaters prefer the Kevlar-coated protectors that skike offers directly in its range.
FEATURES
AIR WHEELS
TWO WEAR-RESISTANCE BRAKES
ADJUSTABLE SIZES (Euro 28 to 38)
STABLE LIGHTWEIGHT ALUMINUM CONSTRUCTION
---
We Also Recommend
---