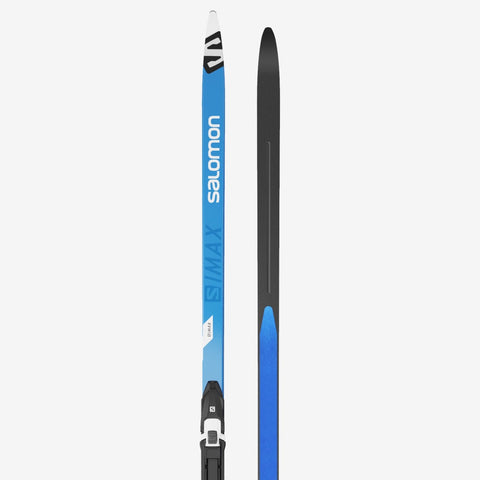 SALOMON S/MAX eSKIN JUNIOR PROLINK
WHAT IT IS FOR
Salomon's S/Max eSkin Junior ski is perfect for races and all-day events. The ski is delivered in pack with a Prolink Shift binding.
Ergonomic moveable binding
The Prolink Shift binding easily boosts the performance of your ski. Shift forward for more grip, backward for more glide or to the "0" position for the best of both worlds.
Grip and silent
The eSKINGRIP+ technology delivers great balance between grip and glide.
Lightweight
The Densolite core is very light and durable.
BASE: G5 Universal base
World Cup base delivering maximum performance in universal conditions.
CORE: Densolite 2000
Light, consistent and torsion stiff core made with bi-directional fiberglass wrap and pre-shaped Densolite foam.
GRIP TECHNOLOGY: eSKINGRIP+
100% MOHAIR skin with equal balance of grip and glide. You can switch it manually if you want to use the eSKINRACE to get into racing mode!
BASE TUNING: World Cup Grinding
Low pressure stone grinding with light structure for fast glide in all snow conditions.
SIDECUT TYPE: Classic Parallel Sidecut
Parallel sidecut that helps skis track straight and fast.
SKI CONSTRUCTION: D2FC Digital Dynamic Flex Control
Digital control of the molding press enables the generation of optimal flex and camber for specific performance on snow. D2FC ensures also perfect ski pairing.
SKI CONSTRUCTION: Heel-Toe Camber
Built to improves glide and acceleration, it provides easy kick and compression when pressing with the forefoot, but remains lifted when pressing with the mid or rear of the foot.
---
We Also Recommend
---