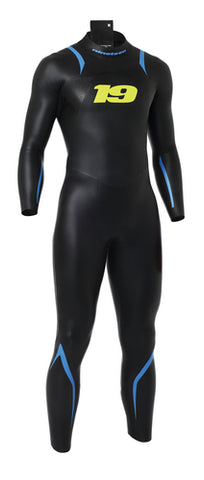 NINETEEN MEN'S FREQUENCY
PRODUCT DESCRIPTION
Years of refinement to our industry leading technologies make the Frequency a world-beating design. Our fit-centric philosophy has produced a suit with top of the line patterning in addition to materials that allow us to provide a class-leading wetsuit.
EasyOff Legs
The 2mm stretch panel of the Frequency's EasyOff Legs helps promote blood flow in your calf and ensures that the legs pop off quickly for faster T1s.
253 Plus System
The 253 Plus System is an engineered system of neoprene paneling that maximizes flexibility while providing optimal buoyancy and body positioning. In the Frequency this includes 5mm neoprene in the lower legs for increased buoyancy.
WingSpan System
The WingSpan System delivers the freedom of swimming without a wetsuit through the combination three features: 1) our flex panel with ultra-stretch jersey which wraps from the front of your chest to the small of your back 2) thin and flexible arms 3).
Reverse Wavy Zipper
Nineteen's new Reverse Wavy Zipper plays a vital role in ensuring ideal fit in the torso. It creates the ultimate seal at the collar while eliminating material bulk behind the neck for a clean and comfortable fit.
Uncollar
Uncomfortable collars are a thing of the past. The Uncollar makes use of InvisibleSeam technology to provide the most comfortable fit available. When combined with our Reverse Wavy Zipper the fit and seal is better than ever.
---
We Also Recommend
---