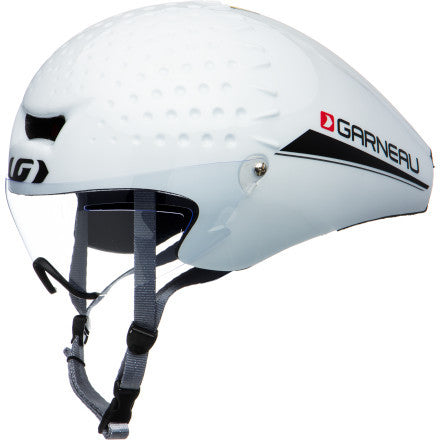 LOUIS GARNEAU VORTTICE HELMET
A simply fantastic TT  helmet from LG.  Easy to wear, clean, not too big, not too small and very fast! An easy way to buy speed. The built in visor is a must for triathlon providing much better vision in wet and hot races.
The front of the Vorttice is dimpled like a golf ball to disturb the airflow just enough to speed its flow over the surface of the helmet. The angled ridges that follow the dimples are vortex generators that compresses air as it flows over the helmet, again speeding its flow down the backside of the helmet. The combination of the two technologies cuts drag by 11 percent.
A single, front vent situated at the point of highest air pressure takes air in and directs it over the head through three different channels to help keep you cool. The Vorttice includes a clear integrated lens to improve airflow around the face. It can be removed or flipped up if desired. Keeping the helmet stable on the head is the Garneau Spiderlock SL which can be adjusted on the fly with just a simple twist of the retention dial. Steplock SL Dividers adjust the length and position of the straps quickly and easily thanks to the locking cam design. And unlike many aero helmets that come with a significant weight penalty, the Vorttice weighs only 340g (12 oz.). 
Steplock Divider for quick strap position adjustment
---
We Also Recommend
---