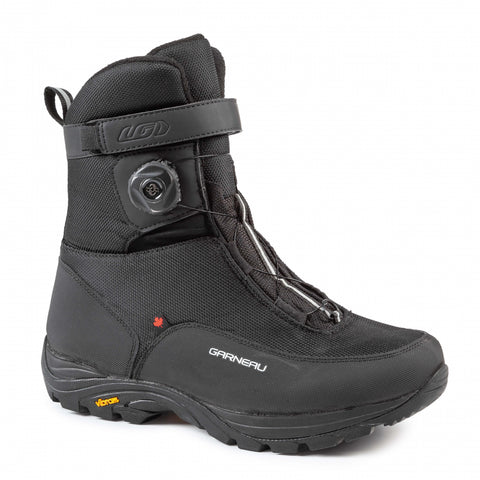 LOUIS GARNEAU KLONDIKE M4 BOOT
Meet the brand-new Klondike M4 Shoes. Garneau's latest addition to the Fat Bike Collection. These top-range winter boots have been built with the best tech features the industry has to offer. They have passed all our quality tests carried out in the worst winter conditions.
Don't fear the cold. If Mother Nature doesn't behave this winter, these boots couldn't be greater. They are extremely light and durable. The Cordura 1680D upper is abrasion-resistant and will sustain all rocky or rugged terrains. You will also be impressed by our specialized VIBRAM® DURATREK outer soles. We have analysed the power transfer during fat bike training to avoid energy loss. These soles are made for winter workout. They will not be altered or lose any gripping capacity even in gale-force winds or icy temperatures. E-SIZE CONSTRUCTION Our flexible E-size construction is a true innovation. The structural shape of the shoe is compatible with wider feet and individual foot shapes. This is a huge advantage when we know the standard size on the market is D. We are extremely proud to extend our offer to the greatest number of athletes possible. They can now train all winter without feeling any pain. The manufacturing process for this E-size configuration is simple. The shoe is constantly and carefully molded while on the assembly chain to make it malleable and extremely soft. You can even wear it with wool socks, and you won't feel any tightening on your feet. The Klondike is not only great on a bike. The super easy-to-use Boa® M4 IP-1S closure system simplifies the boot adjustment. A specific left and right-foot closing mechanism has been carefully designed to be glove-friendly and the velcro buckle straps also adjust easily. Your feet will never get cold again when you're on your fat bike or snowshoes! Go for Garneau. We build shoes in our igloos. Reach your goals in full power. We know all about winter.
High volume fit last
BOA M3 avec lacets en acier facile à ajuster, même au froid
VIBRAM® DURATREK outsole stay soft and grippy in cold temperature
3-layer construction insole with 100% wool, 3mm PE foam and Metal Heat for cold block protection
---
We Also Recommend
---