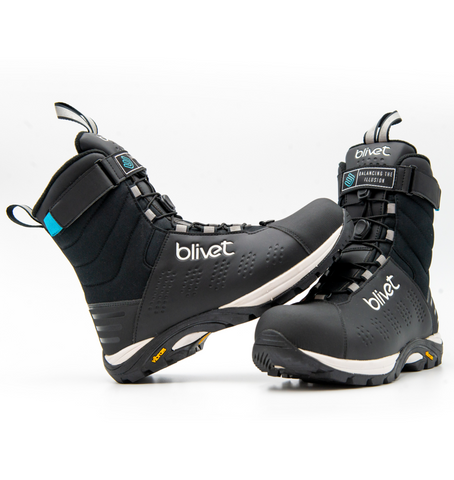 BLIVET QUILO BOOTS
Expected temperature:  Up to -18 ° Celsius/ -4° Fahrenheit
Welcome to Blivet Sports Holy Grail, the QUILO.

Once again, the QUILO was fine tuned. What was still to be improved on this magic mocassin? The laces!! We tested several options through the last winter and we chose a totally new top quality lace string kevlar reinforced and a new and much smoother automatic lock system activate with a tiny metal spring to push the button back quickly in place. A small but great improvement. 
All the required materials for its construction were carefully studied for a maximum of comfort, performance and aesthetics.
Sturdy synthetic leather panels on a beautiful matte finish. The internal material (from toe to ankle height) were specifically chosen to eliminate as much moisture as possible, which often causes frostbite, the inner layer  is a breathable material that dries quickly. Micro fleece at the top of the boot for great comfort. The LISZT AIR "TOEBOX", a unique design to maximize comfort and keep the toes as far away as possible from the cold surface of the boot. 
Still by far the lightest boot in the industry, the QUILO offers an excellent ''cold protection'' index. You will find 200g of insulation Thinsulate 3M ™ as well as a highly efficient Ethylene-vinyl acetate (EVA) thermal wall. Blivet pays special attention to keep the cold transmitted by the cleat's counterplate, but also in the whole outsole without forgetting our 'LISZT AIR TOEBOX'' design with extraordinary volume at the toes. Comfortable to walk with, greater flexibility at the ankle, no compromise in the stiffness of the North Sharp Claw outsole. Vibram ® which provides excellent power transfer when pedalling, an outsole width reminding the one of a summer shoe, with a reduced volume. The QUILO is equipped with two laces that independently and precisely adjust the foot and ankle area for optimal comfort. With a wide tightening strap positioned at the calf and an overall height of 21cm from the ground, the snow will never reach you.
The QUILO is definitely the best winter cycling boot on the market.
New features:
Top quality lace

 kevlar reinforced

Automatic lock system
Vibram sole®

 

made of special "xs Trek" rubber and Eva insertion with high thermal resistance
3M Thinsulate insulation™

 

200 g.
'LISZT AIR TOEBOX'' with extra toe volume of 4 x EEEE
Quick dual-lace lacing system with automatic locking
Tongue and heel loops for getting them on quickly
Multilayered, highly heat-resistant removable insole made of 70% wool
Waterproof synthetic leather and high durability 600 denier polyester exterior
Wide tightening strap at the calf
Eyelet for spats
360° reflective strips
Compatible with every type of MTB pedal 2 bolts cleats on the market
Weight: 1068g. (In size 43, pair)
Sizes available: EURO 36 to 48
IMPORTANT NOTE:
The Quilo was desinged for moutain bike automatic pedals (clipless) and are also compatible with flat pedals type.
---
We Also Recommend
---